The Druids Glen Story
One of the top 10 most challenging courses in Washington.
Owned by Parks Legacy Project, Druids Glen LLC is rated one of the top 10 most challenging courses in Washington. However, our four sets of tees allows play for all levels of golf. While you journey through the second growth forest, nature is experienced at every hole.
The Clubhouse at Druids Glen evokes the spirit of an English countryside cottage, while adapting to the Pacific Northwest climate. Our signature restaurant, Grill In The Woods, brings the bounty of the Pacific Northwest to the table and features ingredients from some of the region's best farms and ranches, including the year-round harvests from our own hydroponic garden inside the dining room.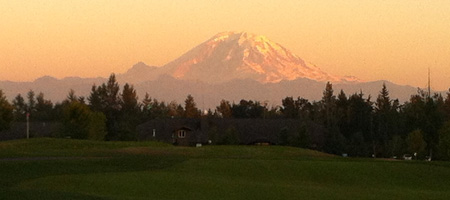 Story of the Druids and the Glen
The Druids of Celtic times were the absolute power of the community. The Druids were priests, poets, philosophers, physicians, judges and prophets. The Druids spent 20 years memorizing sacred texts, as these texts were not reproduced. According to Caesar, the Druids were the exclusive intellectual elite, and were recruited from the ranks of the nobility. The Glen was a sacred place where the Druids came together to share knowledge, experience and expertise.
---
It is rare to have an opportunity to design a course on a property as spectacular as this. The views, the elevation change and desire to create a championship quality course made this a special project."

Keith Foster, Architect
---
The Druids Glen Logo
"Cu'Chulainn the Hound" was a renowned Irish hero from the 8th century, whose spirit now guards our grounds. A great Celtic warrior, he derived his adult name at age five by defeating a ferocious hound in battle. His entire life was devoted to protecting the Irish culture and freedom. His life was dedicated to defending his people and their land, even at the expense of his own life.