Please join us at our new restaurant, Grill In The Woods. Relax in the newly remodeled dining room while enjoying stunning views of the golf course, 30 beers on tap, our new signature cocktails, and a great selection of wines by the glass. The menu features a mix of signature dishes and elevated classics, with a focus on premium ingredients, creative flavor combinations, and produce grown right here in our hydroponic garden. Click Here – View PDF Menu | Click Here – View Kids Menu
Hours of Operation
Monday & Tuesday – Closed
Wednesday – Saturday: 11am – 9pm
Sunday: 11am – 8pm
Happy Hour 3pm – 6pm Daily!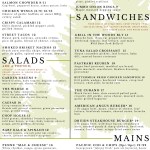 We are now accepting banquets of all sizes!
Having your banquet at Druids Glen Golf Club is having your event in the heart of the Pacific Northwest. Our catering menu from our Grill in the Woods restaurant perfectly executes a precise combination of flavor and captures the heart of Washington with locally sourced product. Whether you want to get married in front of the snow-capped Cascade Range with Mount Rainier at your side, or hold a celebration of life under the Douglas fir trees. It would be our utmost pleasure to host your gathering.
Looking to hold a more intimate banquet? 30 people or less? Our restaurant dining room is the perfect way to spend smaller and more intimate parties all while enjoying some great food!
Looking to hold a larger festivity? Our pavilion is a great way to sprawl out and create a space that is truly your own. We recommend this space for 30 people and up. However, it is available to fit banquets of any size (up to 150)
If you would like to inquire about a banquet please fill out the form below and our banquet manager, Willow Olson, will get back to you.
---